Nimi Prasad (Nimi) performed her Odissi Manchapravesh on 20th Nov 2010 at the DBS Auditorium, Singapore.
She is the first Chitrakala Arts Dancer and the first in over 16 years in Singapore to have performed the Odissi Manchapravesh. Nimi started her Odissi sojourn in 2003, after being fascinated by the style, watching her teacher Chitra Shankar perform at a temple event. With consistent training and performances, she gained the necessary experience, skills and stage awareness to perform her solo debut in 2010. As an Executive in a multi-national firm today, she is married and yet, continues to learn the advance level of Odissi dance to explore the more intricate movements, and intensive dances. She has performed widely in group dances with Chitrakala Arts on acclaimed stages in the ASEAN region.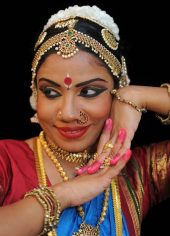 Umamaheshwari Srinivassane (Uma) started her dance journey in her childhood, but commenced her formal study and practice of Bharatanatyam only from the age of 21 at Chitrakala Arts. Subsequently, after many starts and stops primarily connected with marriage and motherhood, she found her passion again to learn, practice and perform Bharatanatyam with the aim of completing her Arangetram. In June 2013, she performed her Arangetram, at the SIA Auditorium, LaSalle College of the Arts, Singapore after many years of practice, and through sheer perseverance.
Her passion continues today, as she has ventured into a career as Center Head and Teacher at Chitrakala Arts, Sengkang Branch, Singapore. She continues to learn Advance level dance and pedagogy at Chitraakala Arts, even as she balances her professional and personal lives with her passion.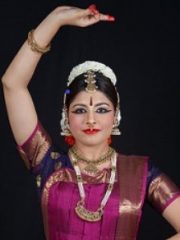 Nikita Mavinkurve (Nikita) has been pursuing dance for the past 13 years. Her dance journey began at the age of 7. After having learnt for a few years in India, she moved to Singapore with her parents and started Bharatanatyam classes at Chitrakala Arts. She regularly performed in various dance productions sometimes as a solo performer and sometimes in group choreography.
Nikita completed her Arangetram in January 2016. After her Arangetram, Nikita, for a brief time, assisted at Chitraakala Arts with training the tiny tots and young dancer groups to imbue in them a sense of Tala (rhythm). Nikita's vision is to embark on this beautiful journey of discovering herself through the medium of dance.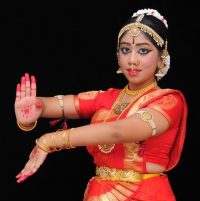 Pugalendhi Sandhiya (Sandhiya), got initiated into Bharatanatyam at the age of 5, and joined Chitrakala Arts at the age of 10. Starting at the beginner level, she quickly moved through the stages, through consistent practice and active participation in master classes and workshops conducted by renowned Guru Srikanth Natarajan from India. She has honed her training and stage skills through multiple performances on different stages in group choreographies and sometimes, solo performances. She went on to become the youngest Arangetram student at the age of 15, when she performed her solo debut at the Singapore Polytechnic Auditorium in Mar 2016. She continues her Advance level training at Chitrakala Arts and is also an active performing artiste.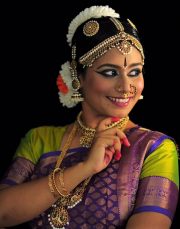 Kayalvizhi Mathivanan (Kayal), started her dance journey at the tender age of 5, and continues to be passionate and committed to the Arts. A working professional now, she has been discovering herself through this journey and considers it an integral part of her being. She is currently continuing her learning with Chitrakala, now for the last 5 years and has been performing actively across Singapore and the ASEAN region. She is also pursuing a part-time career as a Dance teacher at Chitrakala Arts, while also understanding other peripheral activities including lighting techniques and stage management as part of the evolution as a performing artiste. Kayal continues her advanced level training with Chitrakala Arts, while also performing and teaching early stage dance students in different centers of Chitrakala Arts.
She is now a Certified trainer with the People's Association (PA), Singapore and looks forward to igniting the same passion for budding artists, and to develop Singapore as a hub for Indian culture and arts.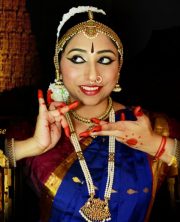 Jaya Anil Kumar (Jaya) started learning dance at a very early age, and after a break for work commitments etc., she rekindled her passion for Bharatanatyam at Chitrakala Arts. With consistent practice and commitment, as well as participation in master classes and workshops, she honed her skills and went on to perform her Arangetram in April 2017 at the Alliance Francaise Auditorium. She has performed, as part of the Chitrakala Arts group, actively at different venues and events within Singapore.
Dance was instrumental to help her build a fitness regime and a consistency of practice. Prior to every class, she would diligently perform her warm-up routines and exercises, allowing her to dance for long periods. Jaya was among the senior girls in the classes at Chitrakala Arts and has actively assisted with rehearsals, make-up back stage assistance and student management at many of the group events, including the annual NrityaSangamam as well as community and temple events performed.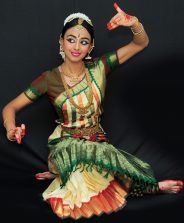 Aakruti Ganeshan (Aakruti) also started her dance journey at a very early age. Despite moving 3 countries in short time frames, she continued to pursue her dance classes with consistency and diligence. She joined Chitrakala Arts in 2013 and has ever since participated in workshops, master classes, community club and temple performances whenever and wherever possible. She planned her Arangetram early, and started working on her "maargam" as well as her technique at least 12 months prior to event. She continued to train her body to withstand the rigors of long and intense dance routines.
In Aug 2017, she performed her Arangetram at the The Republic Cultural Center (TRCC) Auditorium at the Republic Polytechnic. Over the years, Aakruti has developed a strong sense of Taalam, with good bhaava and a natural grace.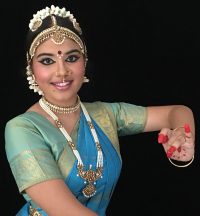 Srishti Bhawal (Srisht) started her dance journey in India, before finding Chitrakala Arts in 2015, where she rekindled her interest and passion for the art form. A quiet and committed dancer, she breezed her way through the intermediate stages to reach the advanced level of learning, as she worked towards her debut performance.
With tremendous persistence, she performed her Arangetram at the Alliance Francaise Auditorium in Aug 2018. Srishti has performed with her peer group at Chitrakala Arts on many occasions and has even given one solo performance at the Veeramakaliamman temple, in preparation for her Arangetram.
Tanvi Shankar (Tanvi) started her dance journey with Bharatanatyam at the age of four and later started learning Odissi as well when she turned seven. From a reluctant four-year-old who had to be coaxed into dance classes to a passionate teenager who juggled dance performances with end-of—year exams, Tanvi's journey has been rich with experiences and turning points which have chiseled her into the dancer she is today.
In January 2019, Tanvi performed her Aranga-Pravesham, a unique debut performance incorporating both Bharatanatyam and Odissi styles of dance into one performance, at the University Cultural Centre. In preparation for her Aranga-Pravesham, dance has become second nature to Tanvi. Technicalities aside, her attempts to straddle two very different dance forms and switch seamlessly between them made her journey particularly tedious and demanding.
Manasi Somani's (Manasi) journey as a Bharatanatyam dancer commenced at the age of eight in school. Those weekly classes stoked her interest in dance and desire to learn further. She started her training under Ms Bharathi Murthy, who then left her in the very capable hands of Ms Chitra Shankar before leaving Singapore. Ms Chitra kindled the spark in Manasi of this art form and has held her hand throughout this beautiful journey, helping her strive towards achieving her maximum potential.
In November 2019, Manasi performed her Arangetram at the University Cultural Centre in NUS. This journey leading up to her Arangetram has been one of tremendous commitment, discipline and learning. She has fallen down and gotten back up multiple times, making her resilient and strong. Over the years, Manasi has built up her stamina and developed her confidence, stage-presence and expressions. Alongside giving her a sense of bliss, her dance journey has been a transformative one and has provided her with a platform through which she has been able to express herself freely. She is immensely grateful to her parents and Gurus who have helped her through these journey.
Jayashree Adivarahan ( Jaishu ) completed her Bharatanatyam Arangetram on 12th Jan 2020 at Chandler Center for Arts, Chandler, Arizona. Jaishu's dance journey started at the age of five, and she joined Chitrakala Arts in 2015. In 2016, when her family relocated back to the U.S, Jaishu decided to continue learning with Chitra through virtual classes. Although Skype classes seemed a bit difficult initially, with the support of her Guru and her family, Jaishu became more accustomed and continues to progress through these lessons.
Dance continues to take a primal role in her life, and is one of her biggest passions. She continues to learn Bharatanatyam and Odissi under Chitra's able guidance and hopes to keep learning and performing both forms of dance in future.